Pesto Rice Meal Prep (High-Protein, Vegan)
Disclosure: Banza sent me their products to try, but I have not been paid by them to write this recipe or create content for them as of January 28, 2020. All opinions are my own.
Pesto Rice Meal Prep
Now, you might be thinking, "but Gigi, pesto doesn't go on rice!". To that I would reply, "Oh, yes, yes it does", especially when it's in this high-protein, vegan, Pesto Rice Meal-Prep recipe.
And NOW you might be asking, "but Gigi, how can a recipe be vegan and high-protein?". My reply, "Easy! With legumes."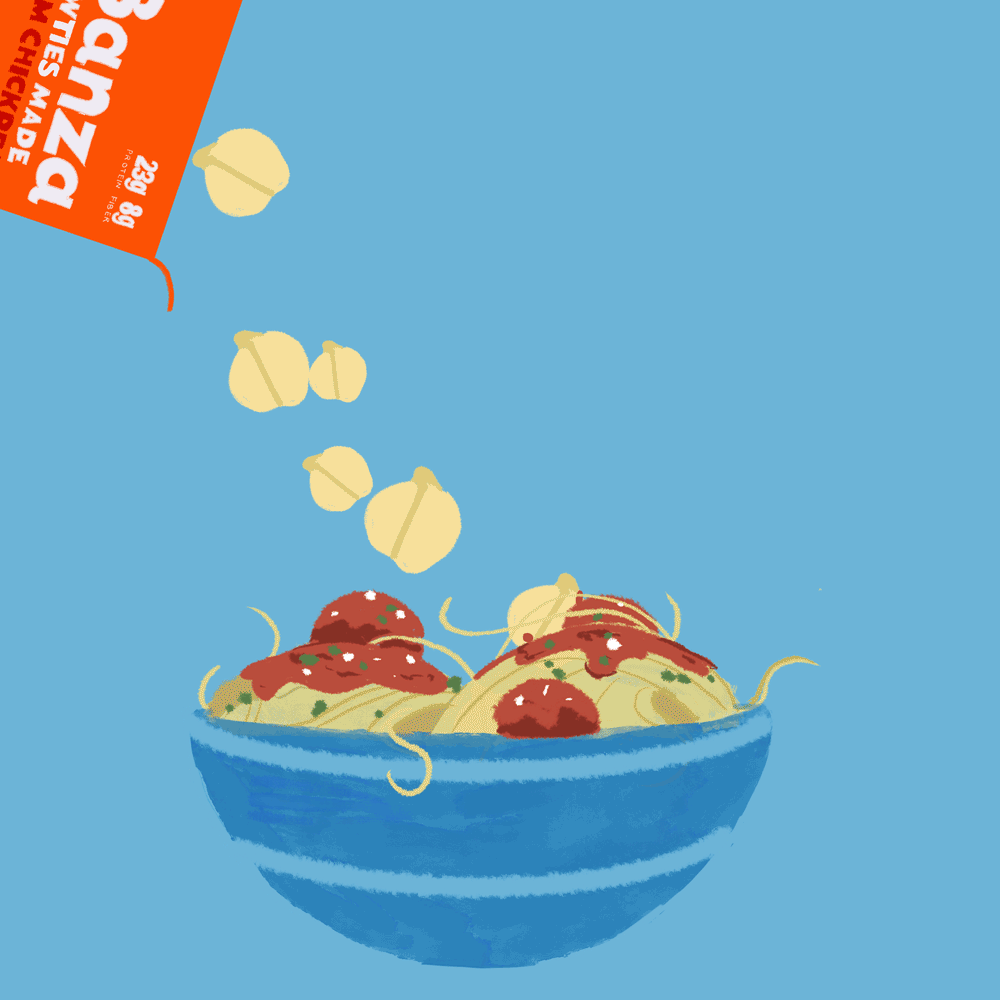 Banza Looping Animation
Legumes are exactly what this "rice" is made out of! To give this recipe an extra protein boost I used Banza Rice, which is made of chickpeas. Chickpeas are a great plant-based protein source. One serving of Banza Rice provide 11 g of protein and 5 g of fiber. Protein and fiber are key to helping stay full and focused throughout the day making this is a great lunch option for busy days.
On top of the protein in the Banza Rice, there is also cannellini beans tossed in this recipe. Another bean means more protein!
Pesto Rice Meal Prep
If you cannot find Banza Rice, feel free to sub it for brown rice or quinoa, which are also great vegan protein sources.
I love topping mine with a soft boiled egg for a little extra protein. Or, if you want to keep it vegan, slice up some avocado right before serving.
Pesto Rice Meal Prep
Makes about 2-3 servings
Ingredients:
100 g Dry Banza Rice - Sub: brown rice or quinoa
80 g* - Spinach Cashew Pesto - Sub: pesto of choice
150 g - Frozen Cauliflower Rice
118 g - Canned Cannellini Beans - Drained and rinsed
100 g - Radishes - Diced
85 g - Spinach
3 Cloves - Garlic - Minced
½ tsp - Salt - Plus more to taste
½ tsp - Black Pepper - Plus more to taste
¼ tsp - Dried Basil Leaves
¼ tsp - Dried Oregano Leaves
¼ tsp - Garlic Powder
¼ tsp - Red Chili Flakes - Optional
1 - Lemon - Zested
Optional Toppings:
Sliced Avocado
Poached Egg
Vegetarian or Vegan Parmesan
Toasted Pine Nuts
More pesto
Instructions:
Cook Banza Rice according to the package instructions. Set aside.
Using nonstick method of choice, add minced garlic to a pan over medium heat. Sauté until fragrant and lightly browned. Add in salt, black pepper, dried basil, dried oregano, and garlic powder. Stir until garlic is well coated in the spices.
Add in frozen cauliflower rice. Stir occasionally to avoid burning. When cauliflower rice has defrosted, reduce heat to low and add Banza Rice, black pepper, and lemon zest to the pan. Stir until everything is evenly incorporated.
Remove from heat. Allow rice to cook completely in the pan. Stir occasionally to release steam and avoid overcooking the rice.
When rice is cool, add in pesto and stir until evenly incorporated.
Portion rice into bowls or Tupperware containers. Add cannellini beans, radishes, and red chili flakes if using.
Before serving, top with any (or all!) optional toppings of choice and enjoy!
*Notes:
- Store bought pestos are often less flavorful than homemade. Depending on the pesto you use, you may need to add more depending on your taste preferences.
Need something else protein packed to prep for breakfast along with these pesto rice bowls? Try these Sheet-Pan Protein Pancakes!